1960-1964: TAKING HOLD

Surf mania took hold after 1960 and the new decade saw Sydney claim surf culture for its own. Tabloids brimmed with stories of bikinied surfer girls, bottle-blonde beach bums and 'surfie–rocker' wars. Big wave bomboras and point breaks were 'king', but nowhere near as 'gas' as local stomps and the primal thud of surf music.
Following their American rivals, local surfers became entrepreneurs, producing Sydney's first dedicated surf magazines and movies, and becoming the voice of the surfing community. Mandatory board registration was introduced in 1960, angering surfers and leading to ongoing hostilities on the beach.

Scuba-diving wetsuit with 'beaver tail'
Early 1960s
Courtesy Geoff Cater

Jazz for beachniks vol 2
The Australian All Stars, Columbia, 1962
Courtesy Anne-Louise Falson.
Cover photograph © Estate of Ron Falson. Cover design © Sony Music Entertainment Pty Ltd

Women's playsuit
1950–60
Manly Art Gallery & Museum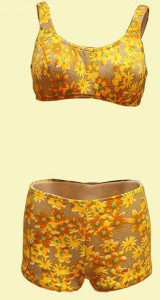 Women's bikini
Catalina by Kayser, US, c1960
Courtesy Kate Bruxner

Surf City cloth patch
Early 1960s
Mick Mock Collection
The live rock venue Surf City at Kings Cross was Sydney's premier teen nightclub in 1963.
Converted from an old cinema and fitted out with a huge dance floor and surf-themed decor,
Surf City featured local stars like Little Pattie, Roland Storm and the Statesmen,
and The Atlantics. It also hosted raging stomp marathons and overseas acts like
The Beach Boys and The Surfaris. Keeping an eye on the kids were security guards, called 'beach inspectors'.
tshirt-copy

Men's sunhat & Speedo Australia leisure shirt, early 1960s.
Courtesy Manly Art Gallery & Museum and Naomi Barwick

Surfing World
Edited by Bob Evans, Sydney, vol 1, no 1, September 1962
Private collection
Launched in September 1962 and still going today, Surfing World gave its
founder and editor, Bob Evans, ample opportunity to promote his wideranging
interests in surfing contests, club activities and filmmaking.
Surfing World contained ads for highprofile companies such as
Speedo, BMC and retail giant Anthony Horderns, along with quality
photography, and overseas surfing news.